When staffs are happy, customers become happy.
We all devote ourselves to our studies
each and every day.
We JEPS devote our effort on employee education, because we believe that "If staffs aren't satisfied, it is impossible to make customers satisfied." Thank-you events for the customers are held by the staffs that received the training.

Thank-you Events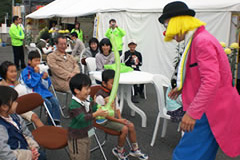 We hold an entertaining event once a year for free in our model room (pavilion) so that we can communicate with the customers.

Clown shows, drum performance, and refreshment booths, where fried noodles and cotton candy are served, take place in the entertainment sections. Also, all-electrification housing systems and solar panels can be experienced in the trial sessions. This event is in great bustle with many customers every year.
Trial Events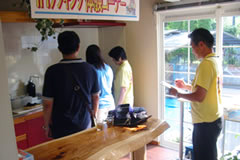 We hold trial events 3 or 4 times a year in which the customers can experience our products such as the latest heating-cooling air conditioners, all-electrification ystems and solar panels. We also introduce efficient ways to warm up a room.
Culture Class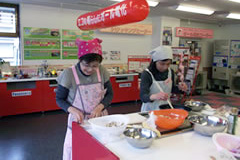 Twice every month, we hold a culture class (cooking, Origami, flower arrangement and Kimono dressing (held bimonthly), etc.) in our model room (pavilion). This class is very popular to actually experience all-electrification systems while enjoying cooking.

①
P(Plan)→D(Do)→C(Check)→A(Act)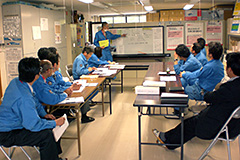 Meeting with participant's consciousness to plan and execute with consideration of customer's expectation

The use purpose of electricity differs by every customer.
What is customer's desired inspection? We ask in detail, share the customer's wish among all the staff members, and realize them with an integrated system from plan preparation to operation.
②
Reassuring Double Check and Retaining Traceability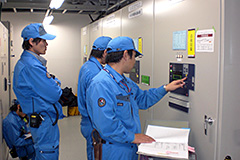 We carry out the inspections based on a check sheet, and a supervisor double-checks the same sheet to improve precision of the inspection.
Also, we keep record for 5 tears about who did which operation.
③
Life Extension Cleaning for Facilities' Health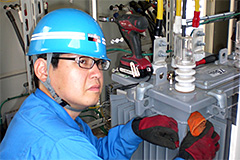 Dirt and dust are a natural enemy of electric facilities.
Therefore, cleaning of facility becomes very important.
A qualified professional of electric engineering does the cleaning work to realize withstand long-term use.

④
Instant Survey of Flaws During Inspection / Repair Plans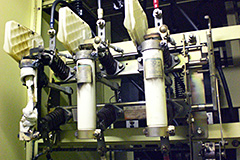 A repair / construction department is juxtaposed apart from the inspection department, which makes it possible to investigate a repair plan at the site.

We also have a system to complete inspections for high-voltage equipment without re-blackouts.
Repair construction will be carried out altogether on the next blackout, so the cost can be reduced as well.
⑤
Managing the Entire Building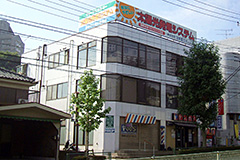 We can manage air conditioners, safety control systems and elevators, so you can leave the whole building under our management.

We maintain a smooth network with professional manufacturers, so that we can act as integrated team even at the trouble.

⑥
Integrated System for "Construction・Maintenance・Check"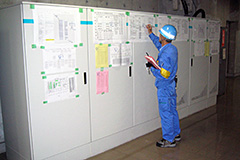 We can do all of site inspections, design, planning, superintendent and construction by our company.
Different department within the company will be responsible for testing, measuring and inspecting, and every nook and cranny is severely checked with a detailed inspection item list.
⑦
Maintenance・Operation by Experts of Electricity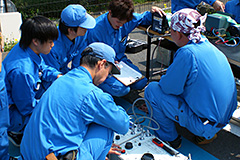 Anybody can operate air conditioners, but repairing them is another thing.
Operating pumps is relatively easy, but the control system is difficult to understand.
These are all caused from not knowing about electricity.

We provide engineers who understand electricity to manage every maintenance operation.

⑧
Consistent Support due to One Company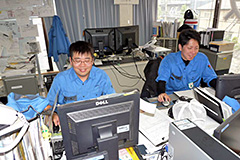 There are some cases in which trouble that can't be solved at the site occurs, and may take time to find a solution. However, we can respond immediately, since we have staffs with various skills, regarding electric facility.

Also, consistent operation by one company makes it possible to reduce the management cost.

Japan Electric Power Service Award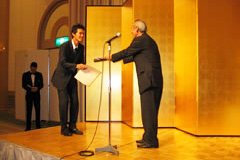 Once a year, we have an in-house commendation system to commend with thanks to the staff who made outstanding contribution.
  JA award "NICHI Award" : For staff who made effort every day freshly.
  PAN award "HON Award" : For staff who challenged seriously.
  ELECTRIC award "DEN Award" : For staff of best reporting, contacting,
  and consultation
  POWER award "RIKI Award" : For staff who confronted
  with all one's might.
  SERVICE award : For staff who devoted oneself to the customers.

Study Trip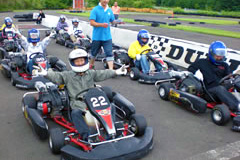 We hold study trips in which all the staffs challenge various events to develop unity power.
We did cart racing, gate ball contests and river-rafting in the past.