Greetings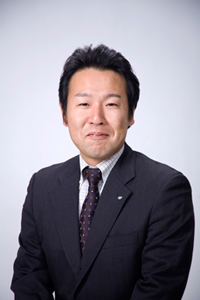 Thank you for visiting JEPS Corporation's web site.
We are full of "gratitude".

Since foundation, we have been supported by many customers up until today. We have always been looking for ways to manage a company that makes the customers happy. Our conclusion was: "A customer's satisfaction comes from the staff's satisfaction."

The happiness of enjoying work and providing it to a customer with confidence, is what we strongly believe as "Necessary for this company". We began from "inspection" to "construction", extended further into "management" and established a totalized ground.

My children (the staff of JEPS) are a brilliant group of members. They handle the kind of work in which the result never lies...they're honest... and hard working. I want each of them to be the kind of person that can be praised, appreciated and thanked by the customers. The kind of person that makes the customers say "I'm glad I entrusted it to you." We are a still growing company. We will do our best to generate an environment to help customers feel at ease
Representative Director
Toshitaka Yokokura
Management Principle

When you come home and turn the light on, don't you feel relieved? In the past, there used to be frequent blackouts in Japan, and people were worried and felt uneasy every time the lights went out. When the lights turn back on, people feel relieved and at ease.

We wish to create a heart-comforting environment like that.
To accomplish this, it is important that: "Prevent power off of electricity " "Keep supplying electricity, safely." "Maintain condition which customers can always use it without worry", and this is the "Creation of a Bright, Comfortable and Peaceful Environment" which JEPS is aiming for.
Corporate Profile
Company name
Japanese Electric Power Service Inc.
English name
JAPAN ELECTRIC POWER SERVICE
Office
[Main Office] 2-23-7, Tsurumaki, Tama-shi, Tokyo 206-0034, Japan
Representative
Representative Director : Toshitaka Yokokura.
Capital
44,000,000 yen
Establishment
April, 1977
Business office
[ECO House Pavilion] 1-15-10, Karakida, Tama-shi, Tokyo 206-0035, Japan
Licenses
Registration Number
* Electric constructor No.77152 Tokyo Governor (toku-23)
*Telecommunication constructor No.77152 Tokyo Governor (han-23)
* Fire protection facility constructor No.77152 Tokyo Governor (han-23)
* Pipe constructor No.77152 Tokyo Governor (han-23)
* Roof constructor No.77152 Tokyo Governor (han-23)
* Painting constructor No.77152 Tokyo Governor (han-23).
* Waterproof constructor No.77152 Tokyo Governor (han-23)
* Interior finishing constructor No.77152 Tokyo Governor (han-23)
* Electric constructor registration No.044995th Tokyo Governor notification
* Building environmental sanitation general management registration (No.6-538 Tokyo 12 han)
* Building drinking water tank cleaning registration (No.4-1637 Tokyo 12 cho)
* Specified labor supply registration Tokyo labor kyokutoku 13-308977
* Quality system (standard) ISO9001: 2008/JIS Q 9001:2008
Examination registration license Registration number 00QR and 466
JAB(R007)-KHK ISO Examination Center
History
| | |
| --- | --- |
| April 4, 1977 | Seiwa Industry Corporation is established as security check services for power transformation facilities. |
| July 22, 1982 | Capital is increased to 1,000,000 yen. |
| July 22, 1982 | Partial addition to the purpose in articles of an association. |
| July 26, 1982 | The Main Office is moved to 1864 Uchikoshi-cho, Hachioji, Tokyo. |
| May 14, 1984 | Change of organization. Representative director: Toshio Yokokura (appointed). |
| January 11, 1988 | Trade name is changed to Japanese Electric Power Service Inc. |
| May 30, 1988 | Capital is increased to 4,000,000 yen. |
| June 1, 1988 | Commencement to get order related construction. |
| June 20, 1988 | The Main Office is moved to 2467 Ochiai, Tama-shi, Tokyo. |
| January 18 1989 | Commencement to get order related to construction for nominated participation from government office. |
| September 11, 1993 | Address is changed to 2-23-7, Tsurumaki, Tama-shi, Tokyo, due to change of town lot number by government. |
| October 7, 1993 | Capital is increased to 12,000,000 yen. |
| October 1, 1995 | Commencement to get order of LAN construction by data processing department. |
| June 1, 1996 | A depot is built. And a training and seminar room is made on the 2nd floor. |
| March 4, 1999 | Capital is increased to 20,000,000 yen. |
| May 1, 1999 | The central sales office is opened in Hamamatsu-cho, Minato-ku, Tokyo. |
| December 25, 2000 | Acquisition of International Standards ISO9001 attestation. |
| March 3, 2002 | Commencement of Solar generation business by the new energy business department. |
| October 25, 2003 | Capital is increased to 25,000,000 yen. |
| August 1, 2004 | Commencement of renovation business mainly focusing on building environmental maintenance. |
| April 22, 2005 | Reorganization registration (change of director and auditor) |
| January 19, 2006 | Acquisition of International Standards IS9001 attestation. "Water supply / drainage and air conditioning" |
| June 23, 2006 | Capital is increased to 44,000,000 yen. |
| February 29, 2008 | Change of company purpose (addition of labor dispatch business) |
| June 29, 2010 | Change of company purpose (addition of low voltage indoor wiring inspection business) |
| March 26, 2013 | Change of company purpose (addition of electric power business, "generation and sale of electric power".) |
| October 1, 2013 | Change of organization. Representative director: Toshitaka Yokokura (appointed) |
| November 1, 2013 | Operation of solar power generation plant(Tsukuba power plant No.1) |
| February 1, 2014 | Start business development activity in Philippines |
Number of Engineers with Qualification in JEPS
| | | | |
| --- | --- | --- | --- |
| Electrical engineer (grade1,2) | 27 | Gas flexible tube connection construction supervisor | 1 |
| Chief electric engineer (grade 2,3) | 5 | Building environmental sanitation management engineer | 4 |
| First rank (electric) construction management engineer | 3 | High-voltage cable and UGS construction engineer | 5 |
| Second rank (electric) construction management engineer | 3 | Vehicle for high altitude work/mobile crane engineer | 25 |
| First rank (pipe) construction management engineer | 1 | Boiler engineer | 5 |
| Second rank (civil engineering) construction management engineer | 1 | Water tank cleaning operation supervisor | 1 |
| Supervising engineer (electric) | 2 | Person in charge freezing machinery | 3 |
| Special electric construction engineer (generator and neon) | 2 | Hazardous materials operator | 5 |
| Fire protection facility engineer | 2 | Disaster control center personnel | 3 |
| Fire protection equipment facility inspector qualification | 4 | Fire prevention manager | 2 |
| Specified building investigator qualification. | 1 | Lifesaving skill authorization and danger of oxygen deficiency | 12 |